While I generally intend to blog on things related to my research and life as an academic, I'm going to go a little 'off topic' in this one. In honor of the pictures gracing this website, I want to do a quick post on the Sugarcoated Pictures studio where they were taken, which is run by a lovely bunch of babes whom I highly recommend you visit yourself for a shoot ASAP, for so many reasons.
The bossbabe in charge
Vivian Kramer gezegd Freher is the powerhouse behind Sugarcoated. She's a badass model (the Dutch Pinup) and trained stylist who started Sugarcoated to share her love of classic vintage style and to offer others the whole package of concept, styling and photography. Together with her team of make-up artists, hair stylists and other talented peeps she creates looks and shoots perfectly tailored to you and your wishes (I should know, I've been five times). This talented chick knows what she's about, and when needed will be brutally honest with you (for example if a shoot idea just isn't going to work), while also managing to be perfectly kind, lovely, supportive and helpful (for example by coming up with a much better one that suits you perfectly). She is one of those rare women who is not only driven and goes for her dreams, but all the while also builds those around her up, which I find continually inspirational.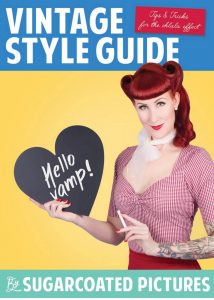 As I've been going for years now (#noshame), I've seen her grow her Sugarcoated baby into one hell of a successful enterprise, adding not only hair, make-up and modeling workshops to their repertoire, but even opening up a Sugarcoated salon just a few doors down the street! She's also published a book on how to obtain that vintage style. She thought it should exist, so she made it happen (and you can find yours truly in it, eek!). She's not only grown her studio and team, but has also gathered a huge collection of clothing, accessories and props, which makes walking into the studio feel like you're into a candy store (can I go back there now please?). A veritable happy place, full of happy people making happy things happen.
My Sugarcoated experience(s)
As some of you may know, my most recent shoot there was not my first time in front of Vivian's camera. I actually treated myself to a shoot five years ago so that I could give the Husband a fabulous picture of me as a gift to sustain him while I went to Munich for a month or two during my PhD. I returned to Sugarcoated a year later when I surprised my BFF (the Restorer Friend) with a shoot for her birthday, and a duo shoot of us together (they kept trying to get us to really pose, which we did, but every time we looked at each other we burst out laughing and it just captures our chemistry gloriously, see above).
Later when I decided I wanted to capture my baby belly in all its sticking-out glory, I knew there was no one I would feel as comfortable with as the Sugarcoated ladies, so back again I went. This time also with the Husband who was just the greatest sport to do this with me! Naturally, I also wanted a family shot a year later, so surprise, surprise, back we went. And again, they NAILED it! It's not easy taking good pictures of a 1-year old, but they worked with us, made some magic and captured several gems of us and the Kid. I've also been to the studio for a hair workshop (I'm looking at you victory rolls, I WILL master you!) with the BFF, I've had the talented Bubblegum Bombshell Bo do my hair and make-up for my PhD defense (instant confidence boost!) and modeled for the one and only Miss Victory Violet during one of her workshops at Sugarcoated (yet another lovely and talented lady, please come back soon!). From the latter activity, I rolled into yet another shoot, which I decided to use to get some new images for my website. So with a suitcase packed with a reproduction sword, trowel, sherds, fossils and more, I returned yet again. And looking around this website I hope you agree with me that once again, Sugarcoated DELIVERED.
While I was there we did the math and realized that I indeed have been to the studio more times than anyone else (though I am closely followed by RosalynnVintage, yet another vintage-loving babe). So yeah, you might say I have a bit of a Sugarcoated addiction (again, #noshame). To some this seems to come off as rather extravagant given the costs associated (totally justified and worth it – full hair and makeup, snacks, bubbly, pep talks, so much fun and oh yeah AMAZING photos), and I truly believe everyone should do it at least once. And not unimportantly – to not feel at all guilty about it! Especially us Dutch women can get caught up in the desire to not stand out or appear like they have invested time or effort into how they look (the 'doe maar normaal, dat is al gek genoeg' attitude), or even worse, enjoy their own appearance. What I mean by this is that you really don't have to have an excuse to do a photoshoot. It is perfectly fine to do it because you want to (and honestly, why would you not?). But if you're not convinced yet, here are a few more reasons to help motivate you to get in front of Vivian's camera:
You will have so much fun. Yes, it might seem a bit scary to let strangers do your makeup and hair, dress you in clothes you may not be used to and then take your pictures, but let me tell ya – these ladies are not only talented professionals who will work their asses off to make you feel comfortable as well as tailor your look and shoot to suit you and your wishes, they're also just so flippin' nice. It literally feels like you're hanging out with friends, so you will not only look fabulous, you'll feel it too.
Intro into vintage style. If you're interested in vintage, retro or rockabilly style, these ladies will help you find what suits you and your body, which can be great start to a pin-up wardrobe, or you might discover that a style you would never have thought to try actually works well for your (I'm looking at you, Collectif dungarees that I wore in my shoot with the Kid and have since bought for myself!).
Treat yo self. Everyone deserves the occasional pampering session. It's like a day at the spa, but with fake lashes and fabulous pictures to remember the day.
It can be a huge self-esteem boost (should you need it, which you shouldn't – be yourself and you will automatically be fabulous). In this day and age we are constantly inundated with images of perfect bodies, faces and lives, which can affect even the most confident of individuals (which I, for a long time, was not). My shoots at Sugarcoated helped me to feel better about myself in very different ways:

Learning to see my own beauty. During my very first shoot, which was back when I had just started embracing the retro style, the hair and makeup as well as all the emotional support made me feel beautiful and totally at ease with myself in a way that at the time I really struggled to achieve. And it translated into my pictures, showing me that me being happy with oneself, really does translate into how one appears. I honestly felt beautiful in a way that I was not used to, and it really opened my eyes and helped me embrace who I am (seriously, these ladies should add 'therapy' to the services they offer).
Social media and magazine images are all 'sugarcoated'. When the ladies of Sugarcoated did my hair and makeup it was like getting an appearance upgrade, I was still myself, but just with sugar-sweet coating. By seeing how my own appearance changed, my shoots also helped me realize how much professional hair and makeup, as well as posing and lighting, affect the way you look, and it opened my eyes to what I was really seeing in all those 'perfect' images that fill my feeds and magazines. Before these shoots, I of course also 'knew' this, but there is no reality check quite as good as seeing it happen on yourself.
I learned to have fun with my appearance, and enjoy it. I also learned that there is nothing wrong with embracing the fantasy and enjoying seeing yourself 'extra' beautiful, whether through makeup, heels or hell even a corset. I enjoy getting dolled up, and wearing just the right clothes can make me feel like I can conquer the world. In some ways, it's my battle armor. BUT! It is also important to remember that hair, makeup and clothes are things to have fun with, and not things you should feel obligated to make use of. This is something my shoots at Sugarcoated helped me realize, and I have since managed to embrace that feeling more and more in my day-to-day life. Some days choosing to wear full-face makeup and a lovely dress without feeling 'overdressed', while other days being perfectly comfy in baggy sweats and greasy hair and going outside like that. It's my choice, and I strive to feel comfortable either way (which I admittedly I don't always manage, but it's a work in progress).
So yeah, it should be clear by now that I am a big fan, and I hope that this gives you some inspiration to visit the Sugarcoated Empire for a photoshoot, workshop or cut-and-color. And while having a photoshoot for no other reason than that it's freaking fun may feel rather indulgent to some, I could not recommend it more, for so many reasons. And let me repeat again, there is nothing wrong with having fun with your body and your looks, or treating yourself. You deserve it! Now go forth, and be fabulous, either at Sugarcoated or just by being yourself.
Love,
Sasja