The Fürstengrab of Frankfurt-Stadtwald is an exceptionally rich Early Iron Age (ca. 700 BC) Hallstatt Culture elite burial, which was excavated almost half a century ago. In a wooden chamber in a large barrow lay the well-preserved skeleton of the man now known as the Keltenfürst ('Celtic Chieftain'). He was buried with an extraordinary set of grave goods that is characteristic of these Early Iron Age elite burials. Among the objects interred with him were a wooden yoke as well as two horse bridles, all covered in bronze decorations. A large bronze vessel known as a situla together with a small ribbed drinking bowl made up his set of drinking vessels, while bronze and pottery dishes were likely used for food. A beautiful bronze sword and an iron butchering knife with gold inlays were also among his grave goods. Some smaller personal items in the form of an extensive toiletry set completed his burial set. All these objects were carefully arranged around his body in the wooden chamber built into an already ancient barrow as his final resting place.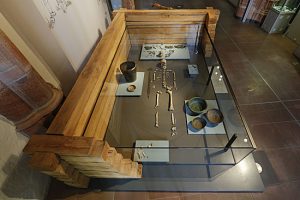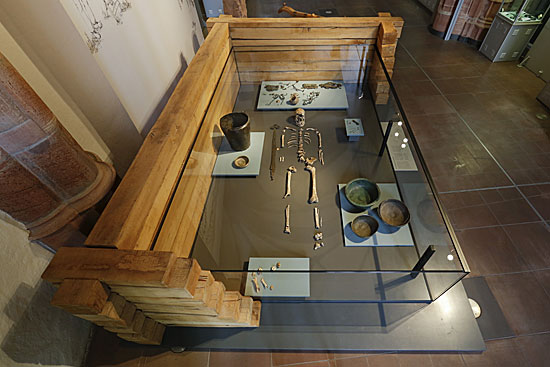 Geographically the Fürstengrab of Frankfurt-Stadtwald is the closest Hallstatt Culture elite burial to those of the Low Countries, and in terms of grave goods, there are some striking similarities – making it an intriguing parallel for the burials I studied during my PhD, in addition to a stunning and interesting site in its own right. I'm thrilled to be collaborating with the Archäeologisches Museum Frankfurt to reanalyze the Fürstengrab of Frankfurt-Stadtwald as we are coming up on the 50-year anniversary of its excavation. Currently, I am in the process of re-examining the exceptional objects he was buried with and the funerary ritual through which he was buried. Meanwhile, the museum is re-analyzing the Fürst's skeleton using the latest research techniques, including ancient DNA and isotope analysis, which could shed light on this man's origins. A forensic reconstruction will allow us to come face to face with this man who lived almost three millennia ago.
Updates on this project will be posted on my blog and on my social media.